Hand baggage is the baggage that the passenger can carry in the cabin of the aircraft.
Size & Weight
The maximum weight and standard dimensions are as follows:
55 cm. x 35 cm. x 25 cm (the sum of the three dimensions must not exceed 115cm)

The handles, pockets and wheels are included in these dimensions.

The maximum weight is 8kg.

Packages that exceed these limits must be stowed in the hold.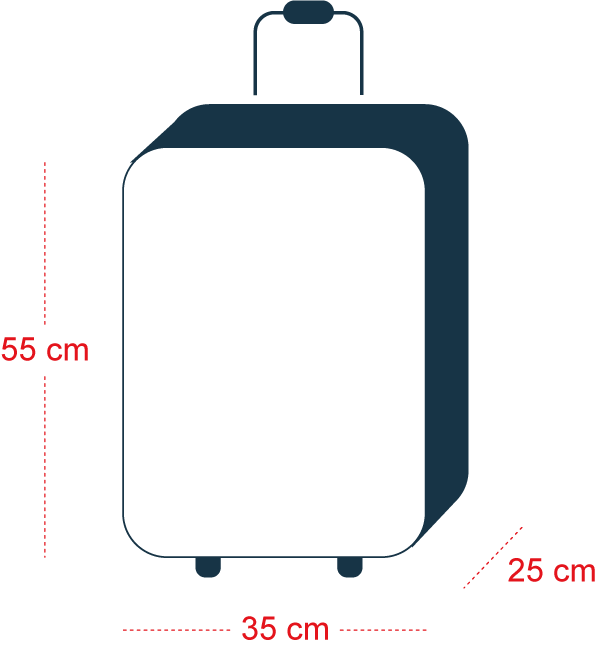 REMEMBER THAT:
In addition to the suitcase each passenger may carry one item from the following list:
A handbag,

A laptop,

A tablet.
This additional item must fit under the seat in front of you: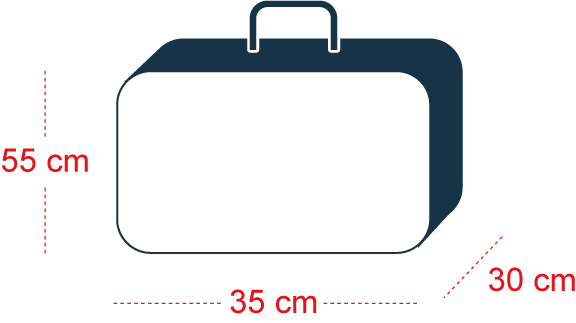 PLEASE REMEMBER:
Hand baggage will be checked at check-in and at the boarding gate. If the measurements or weight of your luggage exceed the limits allowed, your suitcase will not be accepted as hand baggage.

Your suitcase must be light enough for you to store it easily in the overhead locker.

In the interest of everybody's comfort, suitcases which do not comply with these requirements must travel in the hold with a possible

 

additional charge

. This measure is intended to improve both your personal safety and that of other passengers, as well as your comfort during the flight, given that the capacity of the overhead lockers is limited.

Due to space limitations in the cabin luggage lockers, even if your luggage complies with the limits on size and weight, our staff may consider it necessary to store it in the hold at no extra cost to the passenger.
CABIN BAGGAGE ALLOWANCE FOR INFANTS AND CHILDREN
Babies up to 2 years old can carry as hand luggage a bag with the food, drink and other items they will need during the flight.
Children aged over 2 have the same luggage allowance as adults.
Liquids on board
You can bring a limited amount of liquid, cream and gel through security:
You may: 
Carry a small amount of liquid inside your hand baggage in containers no larger than 100 ml or equivalent (100 g). The containers must be put into sealable transparent plastic bags with a capacity not exceeding 1 l or approximately 18 x 20 cm in size.

Each passenger may carry on only one such plastic bag.

Carry medicine and foodstuffs for special diets, including baby food; you may be asked to prove their authenticity and your need for these items.

Carry liquids purchased at the duty free of any airport or airline. The duty-free liquid and receipt must be sealed at the time of purchase in a security bag that must not be opened until the final destination.

If you have a connecting flight at another airport, inform the security staff so that the liquids can be resealed in a new security bag.
All other liquids, aerosols and gels must be put in hold baggage.
For more information, we suggest you to visit the website of the airport you are departing from.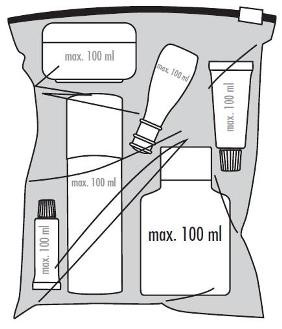 Note: The following are considered liquids: gels, pastes (e.g. toothpaste), lotions, mixes of solid/liquid substances, contents of pressurized containers (e.g. shaving foam), hair gel, drinks, soups, jams, syrups, perfumes, shaving foam, aerosols and other products with similar consistency.
Prohibited Items on board
Both the ICAO and IATA consider all substances and materials that, by their nature, may pose a threat to air transportation as items prohibited from being carried in either checked or hand baggage*.
These products are:
Briefcases fitted with alarm devices 

Compressed gases (refrigerant, flammable, poisonous and non-flammable) such as butane, oxygen, liquid hydrogen, camping gas and cylinders for breathing apparatuses 

Corrosive agents such as acids, alkalis, mercury and batteries with liquid components 

Explosives, weapons, firearms and ammunition not intended for sporting or hunting purposes, pistol caps, fireworks and rockets or realistic toy weapons 

Flammable liquids and solids such as lighters and fuel for the same, matches, paints and solvents 

In the cabin: Liquids, even if perfectly packaged (i.e.: oil, vinegar, wine etc.) if quantities are over what is allowed by EC 185/2010 Regulation

In the hold: Liquids not perfectly packaged (the packaging must avoid possible leakage damaging other baggage)

Other dangerous items such as substances that are magnetic, noxious, toxic or irritating or that have an unpleasant odor, oxidants such as bleaching powders and peroxides 

Televisions

Poisons and infectious substances, pesticides, herbicides and materials with pathogenic agents

Radioactive substances 

Alarm devices and any lithium batteries installed to power them 

Underwater flashlights containing batteries